The saying that "the way to a man's heart is through the stomach" is absolutely true. This quote is the perfect description for every Ghanaian when think you think about the numerous delicacies that abound in this wonderful country. Of a truth, most Ghanaians do not joke with their stomach. More than that, they are very selected in what they eat.
One of the tips in maintaining joy in the Ghanaian home is the expectation of these awesome traditional delicacies on our dinning tables after a hard day's work or during festive events. How some of us miss those days - when Jollof was the eish and chicken is only found on our meals when it is Christmas, a birthday party or an  event. Mummy's Food was always the best. It was always cooked carefully, enriched with love.
There was a time back when the symbol for womanhood was characterized by how well you can cook. Families would gladly accept a lembe (not so educated or beautiful lady) anytime over classy ladies who do not know how to cook. Although this practice is gradually fading away, it can never be disputed that a man who has a good cook as a wife will always love to eat at home.
Some go as far as to package food to the workplace everyday or even invite friends over for meal just to flaunt his wife's cooking skills.  The scenario is not different when it comes to the children. Coming home from school with the expectation that 'some hot banku with mummy's special groundnut soup plus meat toppings' waiting on your table was always enough for us to jump out class the moment the end-of-school bells rings. All in all, a happy home in Ghana is one that is enriched in our cultural delicacies.
Although the preparation of these delicacies are sometimes cumbersome, it was always worth it in the end. Even with the varied cultural systems in the country, there are specific meals that you just can't let it go.
Every tribe in Ghana loves it. 
Always remember, a woman who cooks great has the potential of being a great wife who's able to hold the husband down (Cheating reduces) and a great mother, Auntie or grandmother. The same can be said of the men, a husband who cooks great is an inspiration to his own children and family. Therefore add value to yourself by learning how to prepare these meals;
Palava Sauce and Ampesi(boiled yam)
Banku and Pepper/Okro Stew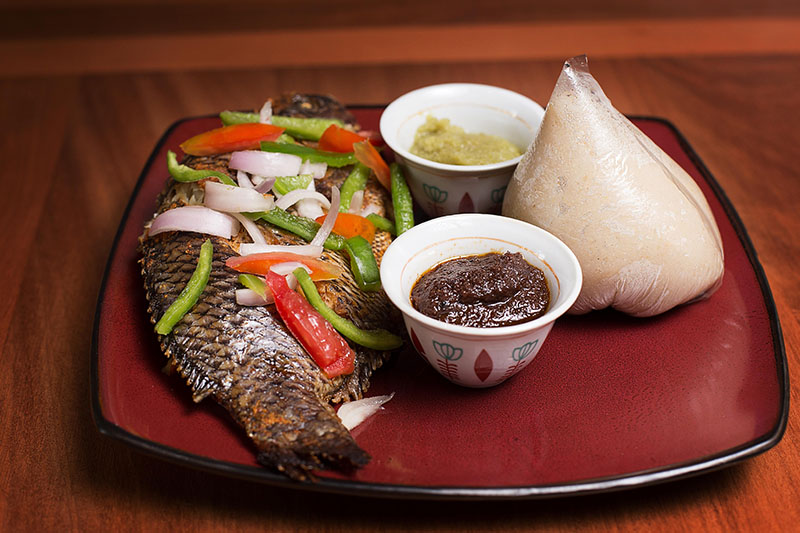 Mportor mpotor (Mashed Yam Porridge)
 
Light Soup with fufu
 
Angwa Muu (Ghanaian Braised Rice)

Waakye

Red red (Gari and Beans)
Jollof Rice
Rice and Stew